Corvette Parts
When searching for a specific corvette part, don't waste your time at any generic auto parts store. At Roberts Corvette and Classics we have everything you need and the experience to make sure you're getting the right part. Finding the part you need in a timely manner can be such a hassle, but we will be sure to take the stress out of parts shopping. Some things you will want to consider when looking for corvette parts include:
Whether you are buying parts for a restorative project, you want to make sure you're using authentic parts for a restoration
Whether or not you are looking for performance parts
If you are looking to just replace a part that was broken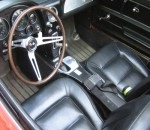 Keeping it Classic
We have been established since 1982, with experience from as early as the 1960s! You won't find anyone with more knowledge and passion about corvettes, parts and classics than Roberts Corvette and Classics. We are a Michigan certified family owned business and a part of the National Corvette Restore Society and Corvette America, so you know you can count on us. Our knowledgeable staff will help you find the right part for your corvette.
Roberts Corvettes and Classics